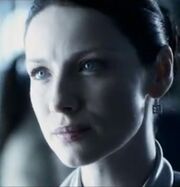 Director of New Projects
[1]
 at
HPlus Nano Teoranta
, Breanna is an executive who often acts as the company's face and voice to the media and to prospective investors/partners, such as
Mortle Systems
.  She is married to
Conall Sheehan
, though their marriage has problems, by her own admission.
[2]
 Her parents,
Dixon Peters
and
Slaine Fitzgibbon Peters
, founded HPlus Nano Teoranta
[3]
, and
Francis Peters
is her half brother by her father.
[4]
 She originally offered
Kenneth Lubahn
a job with HPlus Nano Teoranta,
[5]
and later developed a close working relationship, friendship, and eventually love affair with him.
[6]
[7]
Less than a year before it happened, she and her husband approached a young Indian woman, Leena Param, in the hopes of having her be a surrogate mother for their child.[8]
On the day it happened, Breanna confronted Conall over his affair with Leena. Conall then confronted her over her affair with Kenneth, apparently for the first time since the affair happened three years prior.  She left, driving to the coast, when she was contacted by Kenneth[9] and told to get out of reception range[10].  She has not been heard from or seen since it happened.  Her status is currently unknown.
References
Edit