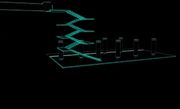 Gods Hand is a location that, according to Jason O'Brien, holds a cache of all of humanity's scientific information and technology.  Jason enlisted Kenneth Lubahn to find its location so that he and his neo-Luddite group could destroy the technology inside.
Seven months after it happened, Dr. Gurveer believed that it was "the only place on Earth with the resources [they] need to work with the child."  By two years after it happened, Manta has stated that Francis Peters has found a way into Gods Head in Rome. 
A schematic found in an extra, accessible from the H+ Timeline, shows a secret facility hidden under the Vatican , presumably Gods Hand.
Its exact nature is still unrevealed so far, although it is implied in Episode 48 that it is somehow in Jason's mind.