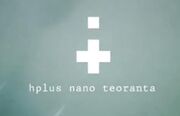 An Irish biotech company that specializes in biomechanical engineering, microbiology and nanotechnology. HPlus Nano Teoranta was started seven years before
The Disaster
 by directors
Dixon Peters
and
Slaine Fitzgibbon Peters
¹, partially funded by the Irish Government.  The company "aimed to develop a new generation of medical implants²."  Some of these devices/their functions include:
Micro Pacemakers
Insulin Monitors
Optical Implants
Cochlear Implants
Gene Therapy
Detection Therapy
Oxygen Purification
Blood Optimization
Tissue Manipulation
Viral Therapy
Vaccine Enhancement
Smart Tissues
Organ Regeneration
Genetic Conditioning
Vision Alteration
Perception Therapy
Smart Organs
Subatomic Imaging
Aural Imaging
Nanofiber Optics
Hybrid Organs
Synthetic Organs
Cellular Imaging
Synthetic Cells
Depression Treatments
Exocortex Development
Limb Regeneration
Kinetic Therapies
Myoelectrics
Artificial Cells
IPS Cells
Smart Injections
Air-based Therapies
Oxygen Creation
Smart Blood(s)
Neurosensory Imaging
Neural Network Mapping
Biomimetic Applications
Nucleotide Synthesis
This company developed the HPlus Implant, based on an older model nano-implant, the n54.
Known Employees of HPlus Nano Teoranta
Edit
References
Edit