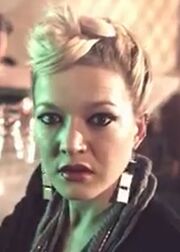 Manta was a hacker who went by the name "Prophetess," and was a member of the
Lord Pearce Wachter
company research and development team that created the
LPW Microchip Implant
, along with
Dr. Y. Gurveer
, 
Francis Peters
 and
Ichiro
.
It is also very likely that even the name "Manta" is an alias, as the Character Web identifies her initials as "sW." 
Seven years before it happened she was assigned to observe a Finnish Digital Crimes investigator by the name of Topi Kuusela who was investigating a group of hackers that included both her and another hacker, Ilia Makarov, alias Snow Viper.
Manta and Topi investigated one another, both deceiving the other as to their true intentions and motives, and while undercover entered into a physical, romantic relationship.  It eventually ended, with both parties hurt.
Three years before it happened, Topi tracked down Manta in Hamburg, having discovered the nature of her research, her reasons for entering into her relationship with him, and claiming to have the knowledge and ability to protect her.  She refused his help.
2 years after it happened Manta was living in an LPW facility, posing as Leena Param in e-mails sent to Conall Sheehan.  Later, when Matteo Spina came to her facility, her implant shut off, and she left with him, in an attempt to find Gurveer at Godshand.  She left Topi , whom she knew to be looking for her, a message with her destination and an extended message in Finnish, deliberately left untranslated by the series.  On the way to Rome, Manta began to demonstrate withdrawal like symptoms, apparently due to the deactivation of her implant.  By the time Topi found her, 3 years after it happened, she had entered a catatonic state.