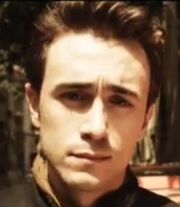 Matteo was a priest in the Catholic Church, as of 3 months before
it happened
, was assigned to the church in Oria, Italy.  His reason for requesting the transfer to Oria was inspired by the visions of
Simona Rossi
.  When Simona confessed that she was requesting testing by
HPlus Nano Teoranta
to see if there was a medical cause to her visions, Father Matteo expressed his concern in preserving their sanctity.  He attempted to convince her to forego the tests, but unsuccessfully.
At some point, Father Matteo was a science teacher.
2 years after it happened, Matteo was still in Oria, but no longer considered himself a priest.  When a friend was injured, he traveled to San Vito in an attempt to find medicine to treat the injury.  He found the Lord Pearce Wachter facility occupied by Manta, but was injured by the electric fence when he tried to enter.
Manta later approached him, claiming that proximity to him deactivated her microchip, and that she wanted to travel with him to find a colleague, Dr. Y. Gurveer, who was in Rome, in the Godshand facility.